Hydrotherapy Pool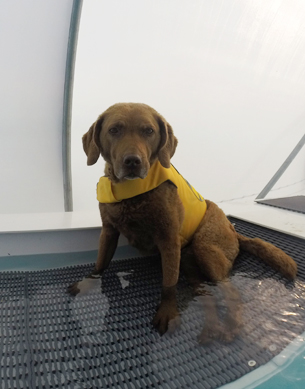 Measuring 6 metres (20ft) long by 3.5 metres (11ft) wide and 1.2 metres (4ft) deep the pool is suitable for all sizes of dog.
Constructed of a material called Paneltim our pool has the following benefits:
Hygienic: The polypropylene pool wall panels repel both dirt and water.
Ecological: made from recycled raw materials.
High insulation properties: Low thermal conduction of plastic and the hermetically enclosed air in the pool walls and floor means our pool will be extremely insulating helping the water stay at the desired temperature.
The pool water continuously passes through several stages of filtration and disinfection thanks to a revolutionary ecological pump that uses an extremely small amount of power.
Water is treated by ultra violet light to neutralise bacteria, viruses and other primitive organisms that stops them from multiplying. This UV light also allows us to minimise the use of chlorine added to the water.
The chlorine and ph levels of the water are tested daily and a water microbiology test is carried out monthly by an independent pathology laboratory.
Inside the pool we have two resting platforms for dogs to take a break between swims. The higher of the two platforms is good for dogs to sit on and get used to their surroundings. As this platform is only 10cm below the water line it is also a good place for those unsure of water to start their session.