Your Canine Hydrotherapy session
Dogs are given a warm shower before treatment to help warm up the joints and muscles, this will also acclimatise your dog to the water.
Your dog is then fitted with a float coat or harness before heading to the pool.
For dogs unsure of water we have two underwater platforms where they can acclimatise to their surroundings before swimming.
Our hydrotherapist will be in the water with your dog throughout the session. This is to ensure the correct rehabilitation and to reduce anxiety for your dog.
Each session of swimming will depend on the dog's condition and ability. Hydrotherapy sessions usually last half an hour with a maximum swim time of 20 minutes. On the first appointment it is likely that your dog will only spend a short time in the water. The price of treatment does not alter according to the length of treatment.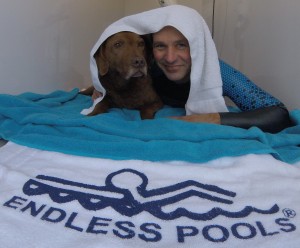 Post-treatment your dog is given another shower followed by a towel and/or blow dry. Please bring a towel with you as some dogs prefer not to be blow dried. It is important that after your session your dog is kept warm. We highly recommend using a towelling/fleece coat for the journey home.
Accurate records will be kept for each session so that we can continually check your dogs' progress.
Cost per session is £20.00.